About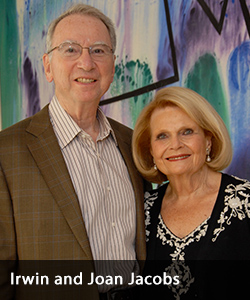 The Peter F. Cowhey Center on Global Transformation (CCGT) and its Pacific Leadership Fellows program are based at UC San Diego's School of Global Policy and Strategy (GPS). Under the leadership of Professor Joshua Graff Zivin, CCGT is designed to bring together the worlds of academic inquiry and policy analysis.
History
In response to a rapidly changing and often misunderstood global economic playing field, the Center was established in 2006 to address central questions about economic growth, equality and market change in the Pacific.
In 2015, Joan and Irwin Jacobs, founding supporters of the center, made a transformational gift to elevate the scope and impact of CCGT's mission. Included in the gift are two new endowed chairs to support faculty at both GPS and the Jacobs School of Engineering, who will work in partnership with the Center, and two new endowed faculty fellowships designed to support junior professors pursuing research key to CCGT's vision and mission.
In 2021, the Jacobs gave a $14 million endowed gift designed to also help spur scholarship on economic and technological change. In recognition of the gift and at the request the Jacobs, the center will be renamed to the Peter F. Cowhey Center on Global Transformation.
Vision and Mission
The center will drive inquiry on two major transformations of the 21st century. One is how structures of the global economy and political governance are changing. The other is how advances in science, technology, and analytic methods offer new opportunities to improve policy and alter the distribution of wealth around the globe. These themes will be taken up by an expanded group of resident fellows, established and emerging faculty leaders and applications-oriented researchers.
CCGT's core mission is to:
Foster and disseminate research that addresses global economic and technology transformation
Develop and maintain a network of leaders that will shape public policy over the coming decades
Establish San Diego as a hub for ideas and scholarship on international policy
Through applied research and dialogue with government and business leaders, the center is a resource for policymakers. In addition, its Pacific Leadership Fellows program creates connections by bringing leaders to San Diego from across the globe. Fellows exchange ideas about the urgent challenges confronting the world and often work on projects that form the basis for policy dialogues with UC San Diego scholars.
Together, CCGT and its programs enhance our region's capabilities in world affairs.
The UC San Diego School of Global Policy and Strategy (GPS) addresses the crucial societal challenges of the 21st century. The School's pioneering research builds on internationally recognized expertise of the Americas and Asia, integrates analysis of public policy and markets, and explores global issues of conflict and cooperation.
Leveraging our West Coast location and UC San Diego's renowned programs in science and technology, GPS develops new analytic tools with real-world applications, while rigorously training the next generation of global leaders. Through collaborations across campus and counterparts around the globe, GPS shapes cutting-edge solutions for a transforming world.