Jose Dalisay
Professor and novelist, University of the Philippines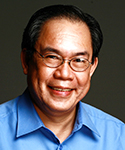 Profile

Residency: Jan. 20–30, 2015


Public Talk: Jan. 28, 2015 on "Democracy and Cultural Expression: Confronting Modernization in the Philippines"

Research Interests
Politics and economics in the Philippines
Literary trends
Biography
Jose Dalisay is a professor of English and creative writing at the University of the Philippines, and has published more than 25 books of fiction and nonfiction plus numerous plays and screenplays. His second novel, "Soledad's Sister," was shortlisted for the inaugural Man Asian Literary Prize, and he has won 16 Don Carlos Palanca Memorial Awards for Literature. In addition to his home country, Dalisay's books have been published in the United States, Italy, France and Spain.
After graduating from the University of the Philippines, he went on to receive his MFA in creative writing from the University of Michigan and Ph.D. in English from the University of Wisconsin-Milwaukee. He has been a Fulbright, Rockefeller Foundation, British Council, David T.K. Wong, Hawthornden Castle and Civitella Ranieri Foundation fellow.
Professionally, professor Dalisay has worked with the United Nations Development Programme, the Ayala Corporation, the World Bank, the Asia Development Bank, USAID and the Cultural Center of the Philippines, among others.
During his residency, he will speak on recent political and economic developments in the Philippines, and on literary trends in the Philippines.
Media
Photos
Videos
Public Talk
Interview
Press

New One UP-Dalisay Professorial Chair at the DECL
Jan. 23, 2017, A new professorial chair has been established at the Department of English and Comparative Literature at the University of the Philippines-Diliman in honor of one of the University's and country's most accomplished writers Jose Dalisay, who was also a GCT Pacific Leadership Fellow in 2015.

Democracy and cultural expression
Feb. 9, 2015, The Philippine Star publishes article by EmPac PLF Jose Dalisay

Frontiers and pioneers
Feb. 2, 2015, The Philippine Star publishes article by EmPac Pacific Leadership Fellow Jose Dalisay

Revolution in the time of Facebook
Jan. 26, 2015, The Philippine Star publishes article by EmPac Pacific Leadership Fellow Jose Dalisay