Jorge Guajardo
Former Mexican ambassador to China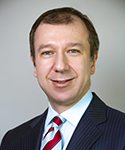 Profile

Residency: Feb. 8–21, 2015


Public Talk: Feb. 19 on "China's Incursion into Latin America: Myths and Realities"

Research Interests
Business development between Latin America and China
International trade between Mexico and China
Biography
Jorge Guajardo serves as senior director at McLarty Associates, where he provides strategic counsel and expertise on Latin America and China. Ambassador Guajardo most recently served for six years in Beijing as the Mexican ambassador to the People's Republic of China.
Ambassador Guajardo has had an active career in government and significant experience in the private sector. Prior to his service as ambassador to China, he was consul general of Mexico to the United States in Austin, Texas, and a Mexican congressional candidate in 2003. He previously served as director of communications for the governor of Nuevo Leon. In the private sector, he worked for the Washington, D.C. public relations firms Hill + Knowlton Strategies and, later, Burson-Marsteller.
Ambassador Guajardo holds a bachelor's degree in foreign service from Georgetown University and a masters degree in public policy from Harvard University's John F. Kennedy School of Government.
Media
Photos
Videos
Public Talk
Interview