Hideichi Okada
Former Vice Minister for International Affairs, Japan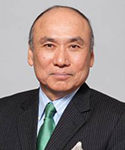 Profile

Residency: March 1–14, 2014


Public Talk: March 11, 2014 on "Global Manufacturing and Japan's Energy Challenges"
Residency Summary
As a fellow, he gave a public talk addressing changes in the global manufacturing sector and Japan's energy policy titled "Global Manufacturing and Japan's Energy Challenges." He was joined by Professor Ulrike Schaede and Jeffrey Rector, energy and project finance attorney at Sheppard Mullin Richter and Hampton LLP and president of the IR/PS Alumni Association. He attended the "China-Japan Relations and the Role of the U.S." conference on campus, and met with students, faculty and local community leaders.
Biography
Hideichi Okada served as vice minister for international affairs, Ministry of Economy, Trade and Industry (METI) from 2010 to 2012, where he promoted international trade and investment, and expanded industrial cooperation with various countries. He also served as Director General of Trade Policy Bureau (2008-2010) and Director General of Commerce and Information Policy Bureau of METI (2007-2008). He worked for Prime Minister Junichiro Koizumi as his executive assistant, where he dealt with policies on economy, industry, energy, science and technology, and environment, and with public relations (2001-2006).
Okada was a professor at the National Graduate Institute for Policy Studies (2006-2007), and a visiting scholar at Harvard Law School and UC San Diego's School of International Relations and Pacific Studies (2007). He received LLM degree from Harvard Law School (1981) and graduated from the University of Tokyo with a LLB (1976). Currently, he is Senior Adviser, NTT Data Institute of Management and Consulting.
Media
Photos
Videos
Public Talk
Interview