Alejandro Poire
Former Secretary of Interior of Mexico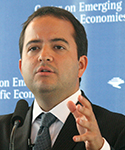 Profile

Residency: May 15–23, 2013


Public Talk: May 21, 2013 on "Mexico's Future: Education, Entrepreneurship and Legal Reforms"
Residency Summary
Alejandro Poire spoke with faculty and students on issues concerning Mexico and met with people from the community in San Diego. He provided the keynote address at a two-day symposium hosted by the Center for U.S.-Mexican Studies titled "Transparency, Democracy, and Reform: New Perspectives on Corruption in Mexico." He also gave a talk to students on the current security debate in the Americas and provided advice to students interested in pursuing careers in government. Poire also met with UC San Diego Chancellor Pradeep Khosla, Principal Barton of the UC San Diego Preuss School, and Institute of the Americas current President Ambassador Charles Shapiro and former President Ambassador Jeffrey Davidow. Alejandro Poire delivered a public lecture titled "Mexico's Future: Education, Entrepreneurship and Legal Reforms," discussing the future of Mexico's prosperity lies in its capacity to simultaneously consolidate the rule of law reforms promoted in the last few years, enhance legal transformations, systematically open up its democratic institutions, unleash the entrepreneurial potential of a growing cadre of young professionals who are going through the ranks of Mexico's higher education system.
Biography
Mexico's former Secretary of Interior Alejandro Poire holds a Ph.D. in political science from Harvard University and is currently a visiting fellow at Stanford's Hoover Institution, teaching governance and security in Latin America. He has been both a scholar and a senior security adviser in Mexico. He has also held top positions under the Calderon Administration, including national security spokesperson and chief of the National Intelligence Agency. He is also heading a social startup, Mexico Crece, devoted to finding scalable and high-impact solutions to help Mexican students identify and pursue their dreams.
Media
Photos
Videos
Public Talk
Interview