Joao Batista de Rezende
President, Anatel Communications (Brazil)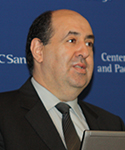 Profile

Residency: Jan. 9–13, 2012


Public Talk: Jan. 12, 2012 on "Brazil's New Wave of Telecom Reforms"
Residency Summary
Joao Batista de Rezende discussed in his public talk Brazil's a new wave of telecommunications reforms aimed at increasing competition and penetration of new services, changing the government priorities to broadband access as well as higher computer, tablet and smartphone diffusion in the society. He also participated with Qualcomm Inc. at the 2012 International CES Conference, providing a great opportunity to meet, share and learn from fellow international telecommunication professionals.
Biography
Joao Batista Rezende is president of ANATEL, the Brazilian telecommunications regulatory agency. Previously, he was chief of staff at the Federal Ministry of Budget and Planning, secretary of finance for the City of Londrina in the southern state of Parana and president of Sercomtel Telecomucanicoes S.A. He earned his M.A. in economics from the Catholic University of Sao Paulo.
Media
Photos
Videos
Public Talk