Charles Zhang
Founder, Board Chair and CEO of Sohu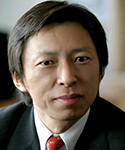 Profile

Residency: Feb. 3–7, 2014


Public Talk: "China Internet Battles"
Residency Summary
As a fellow, Charles Zhang spoke at a highly attended public talk titled "China Internet Battles," where he discussed the strengths and challenges to developing the Internet in China and the future of the Internet. He guest lectured in a select class and attended a networking event with the China Focus student group. During his stay, he met with Qualcomm Incorporated officials to discuss smart phone technologies. He also met with IR/PS faculty members as well as participated in meetings at the Kavli Institute for Brain and Mind and the San Diego Supercomputer Center.
Biography
Charles Zhang is the founder, board chair and CEO of Sohu. Prior to founding Sohu, Zhang worked for Internet Securities Inc. (ISI) and helped establish its China operations, and was Massachusetts Institute of Technology's (MIT) liaison officer with China. Zhang has a Ph.D. in experimental physics from MIT and a bachelor of science degree from Qinghua University in Beijing.

In 1998, he was named by Time Digital as one of the world's top 50 digital elite. He has also been recognized by the World Economic Forum as a Global Leader of Tomorrow and one of 25 global E-biz CEOs by BusinessWeek. Zhang co-led an executive delegation to support Beijing's successful 2008 Olympic bid at the 112th International Olympic Committee in Moscow. Additionally, he led Sohu's efforts in winning the Internet Content Service Sponsorship role for the Beijing 2008 Olympic Games.
Media